Research is most useful when it has concrete implications, being used to inform policies and work alongside stakeholders — crucial to making the right decisions. This is what I discovered during a Mednight-sponsored expedition in the Alboran Sea aboard the Toftevaag, a marine research ship belonging to Alnitak. I am Camille, a 24-year-old graduate with a MA in Development Studies, and I will take you along on our exciting 11-day expedition.
Author: Camille François
Alboran Island to further West — Monday 8th to Tuesday 9th May 2023 — We spent the whole night at sea. Weather conditions were good, which allowed us to continue working at night, but with a different purpose in mind than during daylight. Indeed, being close to the limit between Spanish and Moroccan waters, we searched for Moroccan fishing boats illegally fishing in Spanish waters. Navigating at night is a whole different experience. With a clear sky, the stars guide our navigation. All is dark, quiet and peaceful, and the three people on watch are cuddled in warm clothes behind the ship's helm. We should not let this peaceful time lull us to sleep: we must be on the lookout for a small light on the horizon, which could be that of an illegal fishing boat. We saw a few boats with drift nets that night but didn't manage to get very close, however the recent pressure from Alnitak and the fisher's organisation Carbopesca put on authorities contributed to the Guardia Civil arresting three illegal fishing boats that same night. One can only hope that this is not a one-off and that Spanish authorities will continue their efforts to stop illegal activities that threaten biodiversity from happening on their territorial waters.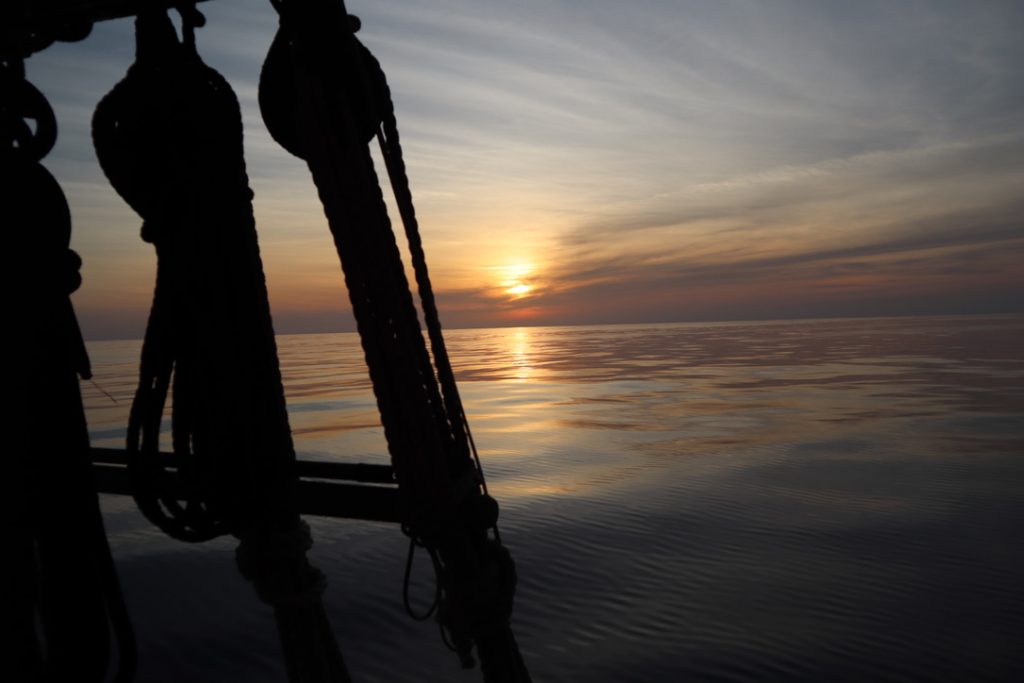 West of Alboran Island to Motril — Tuesday 9th May 2023 — A quiet morning at sea. Those on watch in the early hours of the morning were rewarded by a stunning sunset. Weather conditions were still good today. On the Toftevaag, what we wish for is a flat sea with a glassy aspect, no swell, and no wind that would create waves. Such conditions increase our likelihood of spotting animals or ghost gear. As creepy as its name implies, ghost gear is abandoned, lost, or discarded fishing gear that contributes to plastic pollution. Often lethal, it can entangle animals, causing wounds, amputations or strangulation; it can slow down animals, preventing them from feeding or causing death from exhaustion; and it can also damage marine habitats such as coral reefs. Worldwide, about 10% of marine litter is ghost gear. Every time we spot ghost gear, we steer the Toftevaag towards it, catching it with our hook or dip net. At the end of each expedition, Toftevaag has at least one big net full of ghost gear and plastic garbage.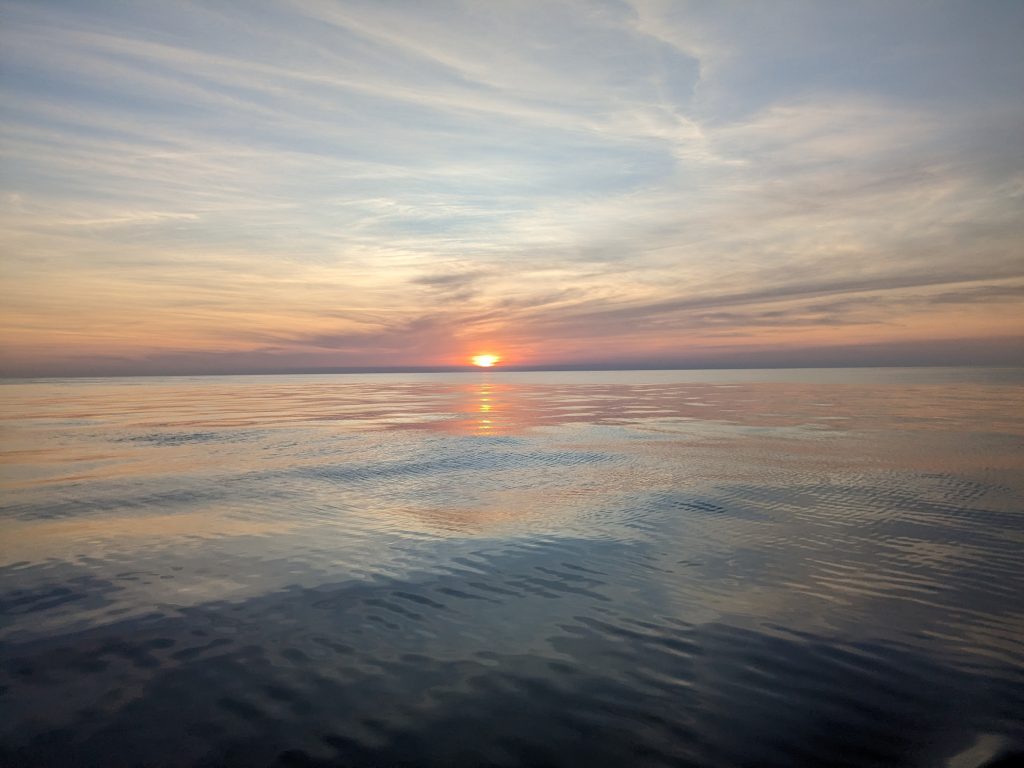 Motril — Wednesday 10th May 2023 — The night was a bit rough for some of the volunteers with some strong winds felt in the harbour; weather conditions were unfavourable for sailing. The night storm created a big swell, which meant we spent the whole day in the harbour. As much as we, volunteers, were looking forward to being out at sea again, access to proper toilets and a shower in the harbour is not something we would frown upon! Harbour day doesn't mean idle day, so we all contributed to some work there was to do, on top of our usual chores (cooking, washing dishes, and cleaning the deck and common areas). Washing a boat is a daily chore, as it quickly gets dirty, but it is also more fun than washing a house. Here, no vacuuming and mopping: we just throw a bucket of water or two on the floor of the living room below deck, give a good swipe with the broom, and the dirty water runs outside of the ship naturally.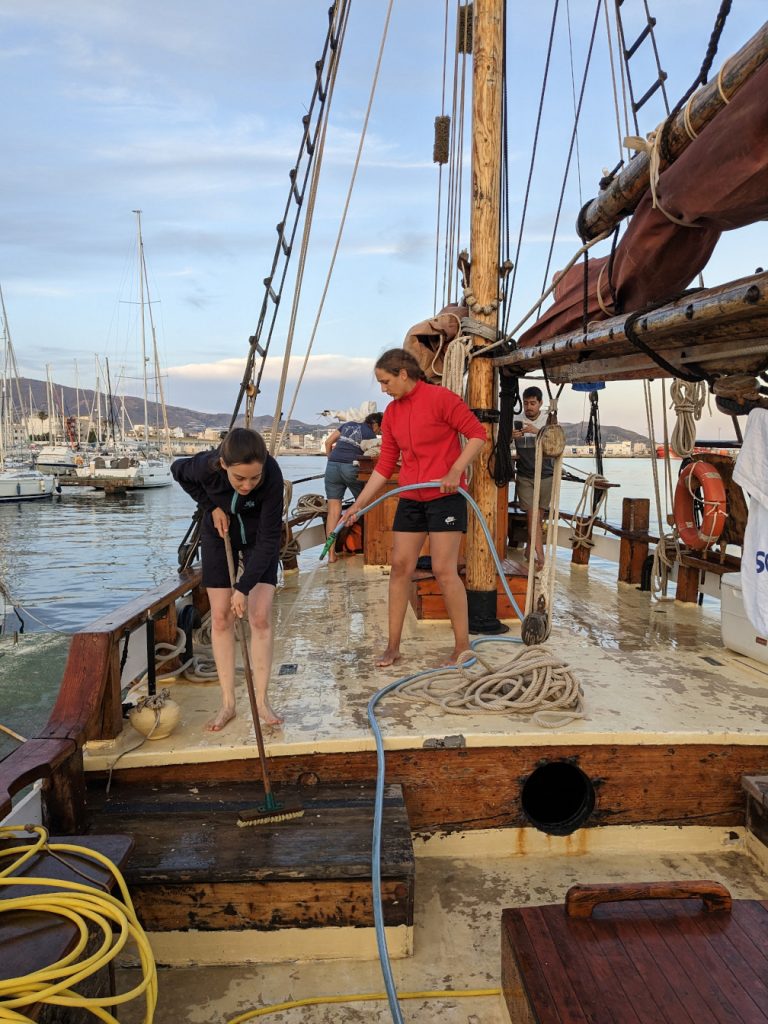 Motril to Almerimar — Thursday 11th May 2023 — The sea had a bit of swell and waves, but by sailing along the coast, we managed to get some fair sailing conditions. As we do each day, every half an hour the person on duty records a range of different data about our environment: the sailing conditions (sea state, swell and its direction, strength of the wind and its direction), the GPS coordinates, visible human activities (ships), marine debris… To be perfectly fair, it is slightly boring to record this, but doing it consistently provides very useful information. For instance, Alnitak was the only entity to record the increase of sport fishing ships in the Mediterranean thanks to this rigorous data collection.
This morning was my first time up on the mast — I did the (slightly scary) climb up the ladder on a moving ship unattached, and once sat on the lookout platform, I roped myself to the mast to be on the safe side. The climb is truly worth it: the view is breathtaking, and it is also the most peaceful place on the ship, far from the noisy engine and occasional busyness of the deck. From this height, we can see much further away, which makes it easier to spot fins or splashes on the horizon — although we can also easily miss them, if we're not careful enough. Someone on the deck spotted some pilot whales well before me! From my advantageous place, I could count them more easily than on deck as I could see the cetaceans under the surface without the glare of the sun. There were at least 26 individuals, including a few calves. What an incredible sight!
Too soon, I had to come back to earth — in both senses of the word. The captain told us that 30 years ago, when he ran such expeditions, groups of pilot whales counted more than a hundred individuals. Alnitak's research, which rigorously records the estimated number of animals per pod, allows us to have clear longitudinal data about the group size — and thus their decline. One potential reason for their decline — amongst several — is that pilot whales are contaminated with heavy-metal pollutants. When females are finally old enough to get calves, around 8 years old, and after more than a year of gestation, they give birth to a calf they would normally nurse for more than 3 years. However, they pass on the contaminants they accumulated over the years to their baby through lactation, unknowingly poisoning them until they die. After their second or third babies, the female's level of contaminants is low enough that the baby has a chance of surviving past youth, but by then, the female pilot whale is already much older.